August 9, 2021 update
The Angeles City LGU has issued Memorandum No. 1127 series of 2021, with terms affecting events within the city. While other guidelines remain in place, new ones have been added. Click here to jump to updates.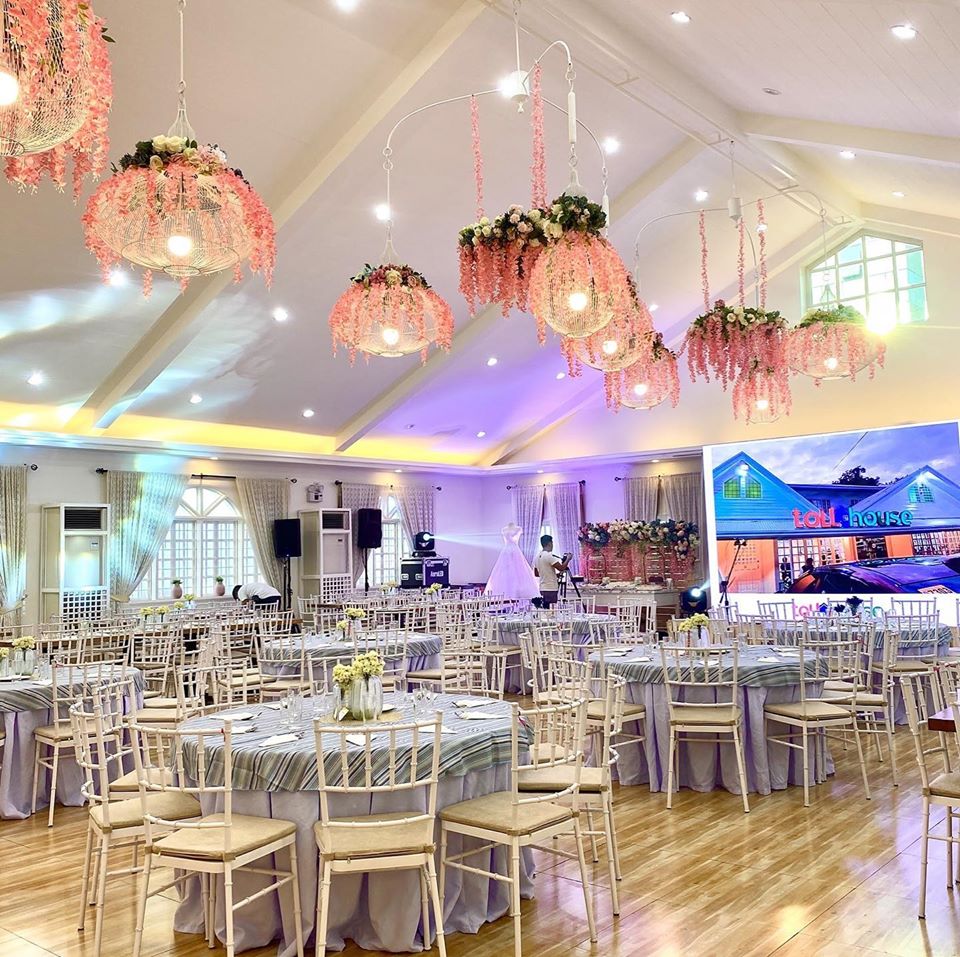 Following the guidelines set by the Angeles City local government unit, we are re-opening the doors of our Crisostomo Hall and Magdalena Rooms at the main branch on Sto. Rosario Street for Intimate Events.
We have packages for small events up to 50 persons. This can change once the LGU becomes more lenient in its regulations on the holding of events within the city.
Contact our main branch at 09175346487 or 09190772210. You can also message us on our Facebook page for more information or to schedule your intimate events at Toll House.
Packages & Guidelines
Download a copy of our event packages and guidelines in the link below. Also available is a copy of Angeles City's Memorandum 1353, Series of 2020, outlining the government's requirements on events. Event package rates may be subject to change without prior notice.
Payment Terms
A pencil booking will be honored by TOLLHOUSE on a first-come, first-served basis for a maximum of 5 days after it has been booked. The CLIENT must confirm their booking within that time or risk cancellation of the booking.
Once confirmed, a non-refundable reservation fee of Php 10,000.00 is required to secure the booking date and time. One month prior to the event, 50% of the total agreed amount (less the Php 10,000.00 reservation fee) must be settled. Full payment is required 1 week (7 days) prior to the event date. Any incidentals must be settled at the end of the event.
TOLLHOUSE accepts cash and credit card as form of settlement. A penalty charge of five percent (5%) per month shall be imposed for accrued past due accounts.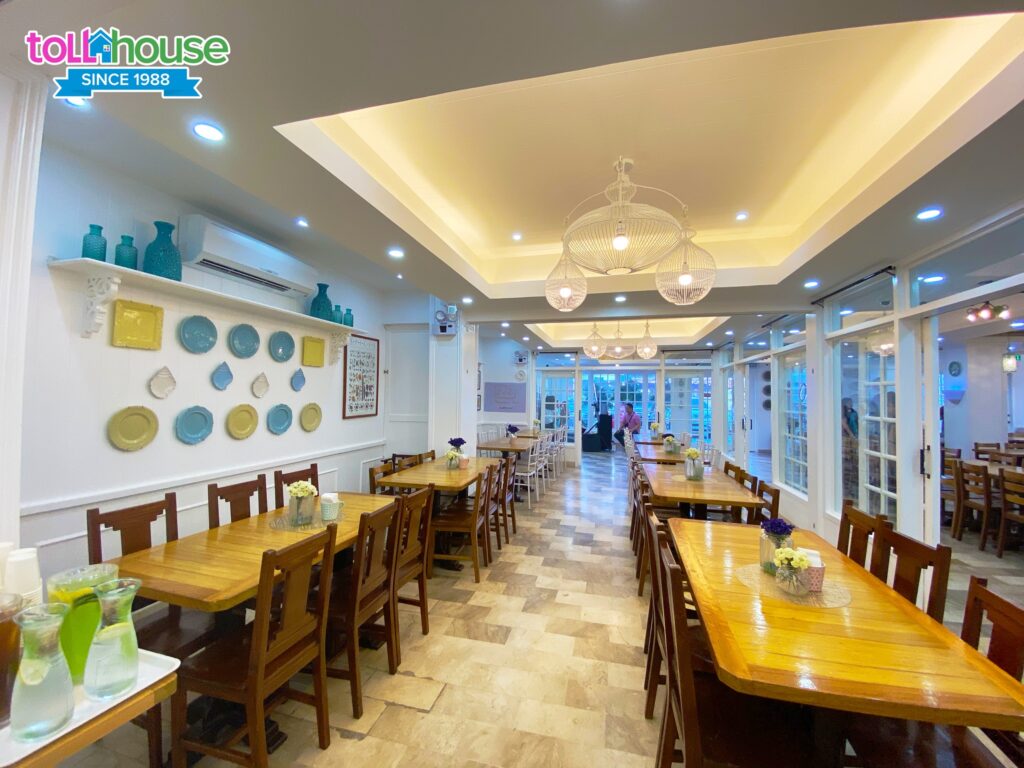 Cancellation Policy
Cancellation within 30 days prior to the event date, CLIENT shall be charged 30% of the total guaranteed events package
Cancellation within 15 days prior to the event date, CLIENT shall be charged 50% of the total guaranteed events package
Cancellation within 7 days prior to the event date, CLIENT shall be charged the FULL AMOUNT of the total guaranteed events package
Force Majeure
Both parties shall not be liable for failure to comply with this agreement due to force majeure including but not limited to: natural disasters, pandemics, government-imposed lockdowns, labor disputes, or other causes beyond the control of either party.
Guidelines for Use of Crisostomo Hall & Magdalena Room
Suppliers are required to submit a copy of their business permits, BIR registration, and portfolio (if any). TOLL HOUSE requires all suppliers to sign agreement to these guidelines and fill out a supplier information sheet prior to working within the venue. Accredited suppliers are responsible for any damages caused to the venue.
TOLL HOUSE allows for 2 hours ingress time (before the event) and 2 hours egress time (after the event). Any extension is subject to approval and availability of venue, and must be requested from TOLL HOUSE at least 2 days in advance.
A list of items to be brought in must be submitted to TOLL HOUSE and verified by the Banquet Manager or Supervisor. This list will be the basis for the exit passes for the said items.
TOLL HOUSE strictly prohibits tacking, sticking, drilling, and/or hammering any material into the walls, ceilings, floors, doors, or any fixture of the venue. In case of damages caused by the CLIENT or their representative, the CLIENT agrees to be charged accordingly.
Hanging rods are provided on the ceiling and around the event venue for hanging decorations and banners, as needed. This is for light weight items only up to maximum 40 lbs. Any plans to hang heavy items are subject to the approval of TOLL HOUSE.
Double sided tape, mounting tape, glue, and any other material that would leave a residue or mark on the walls, ceilings, floors, doors, or any fixture of the venue are prohibited.
Paint is not allowed within the premises at all times.
Any electrical tapping is subject to the approval of TOLL HOUSE. Maximum 60amp is allowed.
Smoking, gambling, fireworks and large open flames are not allowed within the premises at all times.
Cooking is not allowed.
TOLL HOUSE must be informed if the event is a ticketed event. CLIENT is responsible for any added security that may be needed in such cases and for any permits required for the selling of tickets.
Volume must be within reasonable levels at all times.
Posting of ads, promotions or any marketing materials in relation to events at the venue are subject to the approval of TOLL HOUSE.
TOLL HOUSE allows alcoholic beverages to be served during event proper and within the venue premises only. TOLL HOUSE reserves the right to suspend the event at any time for any improper behavior arising within the function.
TOLL HOUSE will not receive any deliveries on behalf of the CLIENT or SUPPLIER. A representative must be present to accept deliveries in behalf of CLIENT or SUPPLIER.
Prohibited goods, materials and substances such as but not limited to firearms and explosives, gunpowder and ammunitions, illegal drugs, unlicensed and counterfeit goods are not allowed at any time within the premises.
Angeles City Guidelines on Events
We recommend to follow local LGU guidelines as summarized below
(Angeles City Memorandum No. 1353, Series of 2020)
Social event organizers or the client shall be required to secure a Special Permit from the City Business Permit and Licensing Division (BPLD). BPLD requires the presence of their personnel during the event to ensure compliance with protocols.
Capacity is limited to 25%, including event organizers and other personnel. TOLL HOUSE limits capacity for Crisostomo Hall to 50 guests, and for Magdalena Rooms (full) to 25 guests only.
All attendees and guests must come only from within Angeles City. A complete guest list must be provided by the client or event organizer prior to the event, not later than 3 days prior to the event date. The LGU requires the following information to be included in the guest list:

Travel History (up to 4 weeks prior to the date of the event)

Declaration of exposure to or contact with persons who have been confirmed or suspected of COVID-19

A seat plan is recommended. Please provide the seat plan and guest list to TOLL HOUSE no later than 3 days prior to the event. Unexpected guests (persons not on the guest list) shall not be accommodated.
Clients are required to sign a waiver that he/she is aware of the risks of having the virus in public places and the government and event suppliers are not liable to shoulder the costs of treatment of persons infected during the event.
All personnel and guests must undergo temperature checks prior to entry. Anyone with a temperature exceeding 37 degrees Celsius will be denied entry.
Face masks and face shields are required.
Proper physical distancing must be observed at all times.
Group photography must be limited to 4 to 5 persons at a time only.
We will be providing disposable sanitary covers for microphones, but we recommend that only 1 person uses each microphone for the whole duration of the event. Please do not share microphones with other persons. The use of 2 microphones are included in the package (Crisostomo Hall).
TOLL HOUSE disinfects the venue and all equipment, utensils, plates, etc frequently during the event, and a thorough disinfection is done after every event. All events are spaced at least 1 day apart to allow for thorough disinfection of the venue and all used equipment between events.
Update August 2021: Angeles City Memorandum 1127 Series of 2021
Social events are allowed: however, they shall be limited to fifty percent (50%) of maximum venue capacity. Children's parties and celebrations for those aged 65 years old and above are prohibited. For social events with attendees coming from outside the Province of Pampanga, all attendees coming from outside the province shall be required to present their NEGATIVE antigen or RT-PCR test result administered and released in the last 48 hours to be allowed entry into Angeles City.
A strictly managed buffet may be allowed in social events; provided that minimum public health protocols are observed, especially the following:

Social distancing must be strictly observed among buffet servers and among those queuing to get food;
Only the servers may be allowed to handle serving utensils. Guests shall be strictly prohibited from handling serving utensils to get food for their own plate. Eating utensils to be used by individual guests should be distributed in advance to each table;
All buffet servers should wear face masks and face shields while serving. Likewise, guests are also required to wear face masks and face shields while queuing for food; and
Guests should refrain from loitering the venue and remain seated unless they are going to be queuing for food in the buffet.
We hope you understand that these precautions are following LGU guidelines and for the health and safety of everyone.